On August 30, Triangle Marketing Club will be hosting a networking event with Brad Grantham as the speaker. Brad is a media and public relations professional with a lot of experience. Luckily for me, I was given the pleasure to meet him and pick his brain.
In talking with him about his exciting career, Brad told me that in media and PR it "all comes down to solving problems quickly and to doing whatever it takes to get the job done" – a practice that defines his approach.
About Brad
Brad is a diehard LSU fan with a passion for music. He enjoys "attempting" to play the guitar and loves going to U2 concerts, so much so that he has already attended over 25 shows!
Upon meeting Brad, I quickly learned what a great sense of humor he has. For example, I witnessed first-hand his impressive Bill Clinton impersonation. Brad told me that his dream job is to be a cast member on SNL, and I think he would do excellent in that role since he can easily make others laugh.
Brad grew up always wanting to be in television news. He made that dream a reality at the age of 15 when he began working behind the scenes at WAFB-TV in Baton Rouge. During college at LSU, he worked as a morning radio host and as a DJ and also worked on the assignment desk at WBRZ-TV.
On top of his multitude of general news memorabilia, Brad has also collected over 800 microphone flags throughout his career. He has worked at multiple news stations, including the following: WBRZ-TV, WNCT-TV, WRAL, and WBBJ-TV in roles ranging from assignment manager to news director.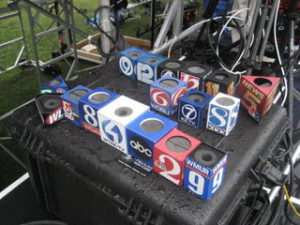 He also worked for PR and advertising firms in managerial roles in New Orleans and Baton Rouge. Currently, he is working as an Associate Vice President at the four-time "Consumer Agency of the Year," French/West/Vaughan.
Media and Public Relations
I was curious as to why Brad chose a career in media and public relations, so I asked. He responded by explaining how he always wondered what made things tick and finding that out was fascinating to him. He wanted to know more about the way TV stations worked, and what makes a good story.
As a public relations and media professional, Brad raises awareness for his clients on various media platforms. He said that he spends about 80% of his time with general media and PR, while the other 20% is spent dealing with crisis situations. Although he enjoys both, he believes that crisis response and management is more second nature to him. Technology is changing the face of crisis management in public relations, making successful response even more important and, at the same time, more rewarding.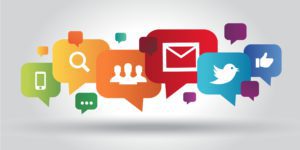 What about the relationship between digital marketing and public relations? Brad believes that digital marketing is helping public relations raise awareness. According to him, "It's like an orchestra. You know specifically what note you are hitting. If orchestrated well enough, both can help the other increase awareness."
Importance of Relationships
I was curious about the importance of relationships in the world of PR, and since Brad has so much TV experience, I asked. His response makes a lot of sense, especially in today's market. Brad believes in relying on a network of support to quickly get the job done, no matter the cost. Obstacles are minor annoyances – you've got to be the problem solver clients can depend on at all times. He noted that it is vital to not only make connections but to also form meaningful relationships with people. He also mentioned that you could never have too many media contacts, because people move and change career paths, so having a deep portfolio of professional connections is really important.
Brad considers a great relationship to be more than just a phone call or an email pitch. Instead, it should be one where you help each other out even if it's giving the other person a tip without getting something in return – they will remember that in the long run.
Not only should you build relationships with other professionals, but most importantly, your clients. Brad taught me that every client is different and handling delicate matters within public relations varies per client.
The biggest takeaway is to establish a deep trust with your client very early on. His explanation for why this is so valuable is because he wants his clients to know they can call him at any time, 24/7. This accessibility creates an openness between him and his clients. Brad is committed to doing anything for his clients, to always having their back, and to helping them handle any situation. With trust and an open line of communication, there tend to be no surprises between the PR specialist and the client.
Brad has focused on building strong relationships with clients and the media over the years – among the things he enjoys most about working in media and PR – because it enables another rewarding favorite of his. He loves to see a great story reach the masses. Through my conversations with Brad, I could clearly tell that he loved a good story. As Brad mentions, "a great pitch for general PR has a great story behind it."
The Highs and Lows of Public Relations and Crisis Management
Like most fields, there are always some highs as well as lows. In this profession, companies tend to need general PR services when a big product launches, for branding, or during any big events. On the crisis side, usually 9 out of 10 times, clients reach out after the crisis has happened.
In Brad's opinion, below are a few listed examples of PR that has gone right or gone wrong.
Crisis Gone Wrong – Volkswagen
Crisis Gone Wrong – BP Oil Spill
Crisis Gone Wrong – Delta (recent software issue that delayed flights)
PR Locally Done Well – ABB, Rex/UNC Health Care, Wake County
Attend the TMC event to hear Brad address other examples
So, what was the most rewarding project that Brad worked on within his career? Brad told me about a time where he worked with the company, Zatarains, for the 125th Anniversary Crawfish Boil (The worlds largest at the time, held outside the Mercedes Benz Superdome). All of the proceeds went to charity, and it turned out to be a very successful and rewarding event. It was even aired on CBS, CNN, and the Today Show. They didn't stop giving back there, however. After Hurricane Sandy hit, they brought a U-Haul truck filled with Zatarains and fed 4,000 people in Staten Island, NY.
Zatarain's | Peter Mayer | 125th Anniversary Crawfish Boil
How about the most challenging thing that he faced through his career? February 5, 2008 – the super tornado outbreak that hit West Tennessee, including the Jackson area, where Brad was a news director at the time. An EF4 and EF3 tornado came through Jackson, demolishing over 10 dorms at a local university and numerous neighborhoods, including his own.
He didn't know for some time if his wife was alive or dead and still had to push through to make sure his news crews were safe and the reporting of the news never stopped. Many slept on floors in the newsroom for days after and never left – they just kept going. He was proud of the resiliency of his news team, a team that ended up being nominated for an
Emmy for their nonstop coverage against larger television markets like Nashville and Memphis. This commitment to making sure that stories are accurate and timely, even under extreme duress, stays with him to this day.
Hearing Brad discuss some of his stories and talk about his career, it was very obvious to me of how strong his passion was for this line of work. Not only did I get to hear about what he has done over the years, but I also got a short preview of Brad in action. While we were talking, Brad had to answer a crisis call from one of his clients. Cool, right? I definitely thought so.
Final Takeaways
Curious as to what are the top important factors that should be included in a good general PR plan for a company? Brad believes that the following 4 points are key to success.
Objective
Strategy
Execution/Timeline/Tactics
ROI
As you come up with a strategy, think of how the plan will target the audience that your client's company needs to be targeting. You should also determine how you are planning on executing the strategy and create a clear timeline. Furthermore, it is essential to have a good idea on what that return on investment, ROI, would be for what you are proposing.
Here are a few of Brad's reasons for why someone would want to come hear him speak at the next TMC event, and why they should:
To discuss what nobody ever wants to – bad things that will arise that could turn into a crisis.
Discover what crisis planning could take place now.
To talk one-on-one with Brad about their specific scenarios after the presentation.
To hear his awesome voice impressions.
See him give Chris some LSU trivia questions.
So, what are you waiting for? Go RSVP for the event to listen to a fantastic PR expert. You and your company will leave with insider tips on dealing with the media, and how to prepare your organization for crisis scenarios.
Also, check out Make It Memorable by Bob Dotson. Brad said it is a great book about video storytelling, and he highly recommends it.
See you on August 30th!