On January 30, TMC hosted not one, but two speakers: Laurie Ruettimann and Kristen Douglas to speak about Trends for Attracting & Retaining Talent in 2018. The two offered opinions from an HR point of view as well as a recruiter's.
We like to have fun at TMC so once everyone got comfy and a quick refill, we took the time to do a ticket giveaway to upcoming concerts in the area, provided by our sponsor LiveNation. Shout-out a few of our sponsors including, but not limited to, BP Studios, Lithios, Go Fish Digital, and Zig Zibit.
Laurie and Kristen chose five burning questions to talk about and answer for their joint presentation. Those questions were as follows.
What makes someone look for a new job?
The main reason why people leave and pursue a new job comes down to a number of reasons. First, it might come down to a pay issue, where an employee does not feel compensated enough for their efforts at work. Another reason might be a lack of growth opportunities. It's worth pointing out, all employees want to feel valued and if they don't, this is a major reason why some leave their current jobs.
Why do people stay?
Going back to the concept of employees feeling valued, personnel will likely stay if they experience this feeling of importance in the company. Everyone wants to have their voices heard and a seat at the table, so it is critical your company can fulfill that need. Additionally, people stay because they believe the work they are doing is meaningful. Lastly, people stay if they have friends at work. A statistic reported by the WorkHuman Research Institute in 2017 stated 66% of workers have two or more close friends at work. Simply put, making and having friends at work matters.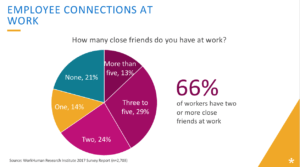 What's the biggest trend in talent attraction and retention in 2018?
In 2018, human interaction at work is going to be a big deal. Doubling down on team engagement is a great way to stay on top of the trend. One example of this is to celebrate more life events at work. A study published by the WorkHuman Research Institute Survey Report stated when workers celebrate 5+ life events at work, 90% feel a sense of belonging and 77% feel that their company has a human work culture.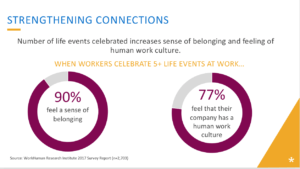 What's one thing leaders can do in 2018 to attract and retain talent?
In 2018, leaders will need to open their eyes to their employees. A great way to do this is to become a coach or even serve as a mentor for your managers. Gone are the days of annual reviews. Managers today should have frequent reviews with employees. As mentioned in the book, The Progress Principle: Using Small Wins to Ignite Joy, Engagement, and Creativity at Work, "If you are mostly asking employees whether they finished this task or that task, then you are checking up on them. This is classic micromanagement, which makes people feel that their judgment, talents, and skills are not valued…" Stop micromanaging and start having meaningful conversations with employees if you want to retain them.
How do we create a meaningful employee experience?
Embrace individualization. Sounds easy enough but what does it mean? Celebrate what makes each person unique. For example, on a new employee's first day of work, take them out to lunch at their favorite restaurant. Not the place right by the office, but the place where your new employee adores. This not only makes the employee's first day at work feel more personal but also make them feel more welcome.
Wrapping it all up
In today's team-oriented work environment, relationships, and lack of matter more than ever. Coaching and continuous conversations are the cornerstones of building trust and unlocking abilities. If you enjoyed reading about this recap, or if you missed TMC last time, click the link to RSVP to the next event on February 27. We will be hosting Lia Reich and she will be discussing The Creative Science Behind Marketing.