May's Triangle Marketing Club event is kicking off the summer with a presentation from Mark Fidelman, Chief Marketing Officer at Fanatics Media. Mark has an extensive sales and marketing background, and this month he is going to share his presentation "The 8 New Rules for Marketing" with the TMC Audience. We are more than excited to have Mark here with us this month, and I was fortunate enough to be able to chat with him and gain some valuable insight before the event on May 21st.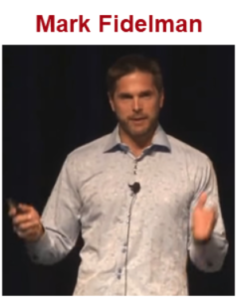 Tell us about yourself and your background.
I started off in sales early on and found myself in the Marketing department a lot. When I moved into technology sales and telling them what to do, they threw me out a bunch of times and finally they liked a few ideas that worked, and they decided that, "Oh, wow, maybe he does know a thing or two about marketing," especially as it pertains to driving leads for sales. So, my background was sales, then I moved into marketing, and then into Digital Marketing.
How did you become exposed to/interested in marketing?
I just like the creativity of it, I like the ability to shape opinions, I like the ability to drive interest and demand. To me it's thrilling to see things that I've put out there with the team that drive a particular action or get them to think a different way. That to me is thrilling.
With technology continually changing and advancing, how is the future of marketing going to be altered/need to adapt?
I would look strongly at Artificial Intelligence, also Social, like organic Social becoming less and less relevant only because the platforms are going to force us to be more of a paid platform. So it's going back to the future, or back to the past I guess when everyone had to pay for access, that's what it's going to be going forward. There will be some influencers that'll continue to have a megaphone, and the smart companies will continue to stay on email. Although that's being more and more limited by Google and some of the other email providers, but email is still a place to have your customer list– don't leave it on any of the platforms if you want to survive long-term, unless you want to pay access to get to it.
Your event's title is called "The 8 New Rules for Marketing;" how and why have the rules to marketing recently changed?
I've mentioned a few of them. But the rules are going to be, especially in Digital Marketing, that you are going to pay to reach your target audience. It's extremely noisy out there so you need to figure out how to  rise above the noise. And that's about messaging, targeting, it's about understanding your core market and building a tribe around that– not easy to do, not easy to execute but that's what you have to do going forward. My 8 new rules for marketing for my presentation is about how you rise above the noise, you build a tribe, and you're using things like artificially intelligent funnels, sales and marketing funnels, to be one step ahead of your competition.
What would you like the TMC audience to take away from your presentation this month?
I want them to take away that "look, the game is changing again," and it's going to continue to change, and here are the 8 new rules you gotta be following if you want to be successful. That would be my takeaway for this presentation.
I would like to thank Mark for taking time out of this day to speak with me about his marketing career, the future of marketing, and our upcoming event. We have an awesome presentation ready for us this month, so don't forget to RSVP on the MeetUp page for TMC's May event, "The 8 New Rules for Marketing," on May 21st at 6:00 p.m.