Every month, Triangle Marketing Club invites some of the best marketing speakers around the country to share their knowledge and real world experiences in a comfortable, fun atmosphere. Our networking events are meant to help you connect and learn from nationally known professionals. This is all part of our effort to be your digital connectors!
On that note, there is some exciting news we would love to share. As of June, Triangle Marketing Club has 3,000 members! It's hard to believe how much we've grown in just 2017 alone, but we couldn't have done it without the constant support from our sponsors, speakers, and loyal members that come and network with us!
Speaking of sponsors, we would like to extend a huge thank you to every one of them. We've had some awesome giveaways this month like the Springboard Promotions Giveaway, which is a wine lover's kit – perfect for wine enthusiasts! Also, a LiveNation Giveaway of tickets to a concert of the winners choice out of the following performances at Red Hat Amphitheater:
And, the following performances at Walnut Creek Amphitheater:
We are also very excited to share that TMC has a new sponsor, TriNet! They are a full-service HR company based in California, but have an office location on Wade Park Boulevard in Raleigh. 
Our last event held on Tuesday, June 27th was yet another fun-filled event, complete with delicious Marco's Pizza and refreshing beverages from Fortnight Brewing Company in Cary, NC.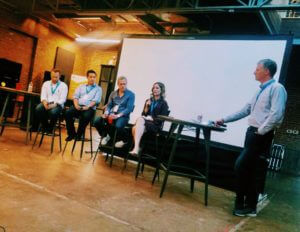 We had four very talented marketers with us to speak for our Marketing Leaders Panel! JT Moore, Dan London, Greg NG, and Karlie Justus Marlowe blessed us with some helpful advice about the marketing world and the state of marketing for 2017. Peter Mollins from SAVO was a wonderful MC for the discussion.
The Panel Discussion began with introductions of each of our four speakers. Check out our June Speaker Interview Blog to learn more about each of these accomplished individuals and their diverse backgrounds.
Here are a few tips we learned:
There is a better chance getting in touch through coffee in the morning than through a lunch

If you can teach the topic or concept to your kid, you can teach it to anyone!

Try to get your hands on everything

Be more well-rounded and learn from challenging experiences

The market is always changing and we must learn how to adapt to such changes to be successful as marketers
We learned some valuable knowledge through a variety of perspectives during our June event, which is what makes our Panel Discussions so interesting. Next, we will have Jack Kosakowski presenting on the topic "Keeping Your Prospects Immersed In Your Content" on Tuesday, July 25th at 6pm. Don't forget to RSVP on Meetup. We hope to see you there and look forward to connecting!!