If you're new to networking, the Triangle Marketing Club is a great place to start. With networking events every month, there is no better place to meet experienced, marketing professionals. While at these events, you need to make sure you are asking the right questions to the new individuals you meet.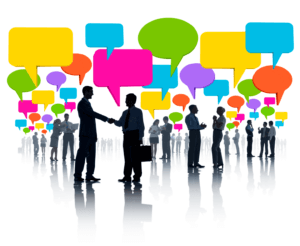 After you introduce yourself with a firm handshake and a smile, work these questions into your conversations:
"How do you know the host?"
Finding out how people know your host is a great icebreaker. If you don't know the host's name for any reason, just ask the person how they heard about the event. Finding common ground and discovering what brought the two of you to the same place, at the same time, alleviates tension when talking to someone new.
"What do you do?"
Finding out what someone does for a living is how you can find out more about a person and gain a better idea of what careers are available to you. The best way to learn about a new idea or topic is to talk to someone who has experience with it. Learning about what others do in their day-to-day lives can be very interesting and helpful.
"What do you like and dislike about your job?"
Keep your conversations going by asking about the person's feelings towards their career. If you think you would like to work towards a job that they have told you about, their like and dislikes about the job may inspire you even more, or deter you from that career path. Remember that everyone has different opinions about certain things, so be sure to talk to a good variety of people at networking events to learn about numerous jobs and career paths.
|
"What advice could you give me as I search for a job?"
Most of the people you'll meet at Triangle Marketing Club events are successful professionals who know what it takes to secure a job. They will always be willing to give you advice on what to do to land that special job. All you have to do, is ask. Who knows, maybe they'll even be looking to hire you!
"Do you have a business card so we can stay in touch?"
Make sure that you find a way to stay connected with everyone you meet at networking events. By asking for their business card, you show the person you are talking to that you respect what they have to say and would like to stay in touch with them. Offer to connect with them on LinkedIn and always have a business card to give them, in return.
By asking these questions, you will have valuable conversations with people at networking events and learn a lot. Remember not to be shy and don't be afraid to put yourself out there. Since you are going to be asking people to tell you about their lives, they're going to ask you about yours. So be prepared and expand your network!