This blog is about the customer experience with two companies in different industries.
To paraphrase Charles Dickens, it was the best of experiences, it was the worst of experiences. Would you agree that repeat business is better than new business? If so, why would you abuse a repeat customer with bad customer service, incorrect inventory records, and wasted time?
Company number one, Cree , that understands how it's customers communicate and values their time. Cree actually took a bad product experience and made it a win.
Company number two, Jos A Banks, handicaps it's customer service with poor inventory counts, doesn't understand the power of social media (only uses it for sales messaging), and sent an existing customer on a wild goose chase all over town that did not result in an additional sale.
Experience Number 1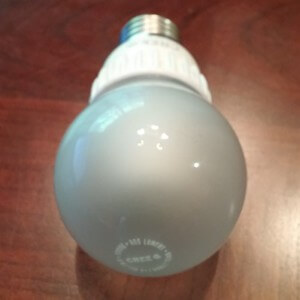 About a year ago, I got a Cree LED lightbulb from at a Durham Bulls game. LED Bulbs are cool and I thought it would be a great thing to have in the den for my reading lamp. (Good for the environment, save a little money, never replace the bulb, and so on.) Well I must have gotten a bad bulb because it flickered like crazy and never worked right.
I get it, sometimes products fail and it wasn't a high priority for me. I had put it aside until this particular weekend when I was cleaning out some clutter and found it in a box. I knew it needed to be recycled and wasn't trying to get a free bulb. Hell I didn't pay a dime for the bulb so I wasn't invested. In asking the recycling center what to do with it, I got mixed answers. But I did want to know how to recycle it so I tweeted at Cree and asked them what should I do with the bulb.
But the response impressed me. A few Direct Messages later, Cree offered to mail me a replacement bulb. The bulb arrived the next day via FedEx. Cree made a poor product experience into a positive brand experience by being nice, going the extra mile, and saving me time.
Quality Customer Service is irreplaceable.
Experience Number 2 During the same weekend I was trying to get all of the groomsmen set up with the right suit for my upcoming wedding. Time is always a critical resource, but mine is even more so since Cole and I started Triangle Marketing Club and since I took over iNet Process's marketing Automation Consulting Business. Wedding planning made my life is hectic even more complex. On Saturday, 3 of the 4 Groomsmen got their suits. As it so happens that Cole, one of my groomsmen,was out of town, so on Sunday we were trying to source his suit. I had a previous good experience with Jos A Bank from Saturday getting everything completed in about 30 minutes. But the store didn't have Cole's size. So I tweeted at Jos A Bank to see if they were monitoring Twitter over a major sale weekend.

Jos.A. Bank did not respond over the weekend and we tried all of the other stores in the immediate area with no result.
What I heard in response:
But Jos A Banks was tweeting all weekend. They must have used a scheduler to keep pushing out sale information in the blind to inventory levels. In addition to spending an hour and a half driving to and calling three of Jos. A. Bank stores (note: being told that they had the suit and then finding out that inventory didn't match what we were told), I spent an additional 45 minutes on hold waiting for customer service to answer, just to confirm the color "Oyster" on the website, matched the color "Sand" shown on the tag in the store. In this example, I was spending a couple hundred dollars for a suit and alterations (in addition to what I had already spent). I was extremely invested in both time and money and getting treated poorly because of bad technology and poor customer service. Thus, Jos A Banks transformed a previous positive brand experience into a terrible one.
The key takeaway is, a customer's time is the one thing that cannot be replaced. For a B2C company, especially in a mature market like suit manufacturers, you're goal is to be easy to deal with and have a clear value proposition because everyone highly discounts the products. There is no sense of brand loyalty.The one that provides the best customer experience wins!