Dean Logan: A very successful, creative, one-of-a-kind type of guy with a strong passion for art and design. No matter where he goes, he always has a new creative idea up his sleeve.
Outside of Work

When Dean isn't designing something neat at work, you will most likely find him in his garage studio. Whether it is creating lightsabers with his son, making Halloween decor for his house, or constructing gorgeous wood sculptures in his free time, his creativity is always flowing.
Every year for Halloween, Dean transforms his house into a Disney inspired Haunted Mansion. His passion for Halloween started early on as a kid as he always loved the Haunted Mansion at Disney World. One year, he and his friends made a haunted house in his basement and charged people a nickel to enter. Years later, in his first apartment, he had the idea that he should do it again, and ever since, he has designed and made a Halloween attraction out of his house. Last year, he had around 300 trick or treaters stop by his neighborhood house attraction – that's a lot of candy to be giving out! As Dean says, "The Logan's. Lowering your property values since 2001." Click here to see for yourself!
As for his beautiful sculptures, he began making those while he was in design school in 1998. The story of how he began creating these masterpieces is quite interesting and pretty funny if I do say so myself. In short, Dean was vacationing and realized that he had a 3D project due in one of his classes that he had not even begun. He stumbled along some scrap pieces of wood that people were going to discard and asked if he could have them. He had the idea to put the pieces together and paint them to create something unique with a 3D effect. To read the full story on how he began to create these amazing sculptures, check out his website.
Outside of creating fascinating things, he really enjoys hanging out with his kids. Especially when they build LEGOs together. Dean mentioned that they have a tremendous amount of LEGOs. In fact, the amount could be measured in gallons because not only do they have LEGOs that his children have acquired over the years, but also some from his own childhood.
The Road to Success
Dean's inspiration started early on in his life as he was always surrounded by art. His mother was a fantastic portrait painter and was constantly painting and drawing. He also had the same love for art as he took classes in high school and continued his art studies at Transylvania University, which he attended on an art scholarship. First and foremost, he notes that his mother played an important key role in his career. However, she isn't the only one who inspired him to get where he is today. Dean mentioned that there were several people who really were an inspiration to him.
Specifically, his great art professor in college who impacted his life as a mentor. Joe Knox, a professor of Dean's at Ringling College of Art and Design, taught Dean humility and gave him good advice. He also taught him an important lesson, which Dean acted out the entire story for me during our conversation. At the time, Dean thought he was the teacher's pet, and he figured he could get away with doing the bare minimum amount of work. Turns out, he was wrong, and he never made that mistake again. Dean admitted that he didn't put forward enough work, but it was a good lesson learned. In his own words, "No one is above not doing their fair share." Even after his days as a student, he stayed in touch with Joe.
Besides his parents' constant push for him to do his best, another person who helped Dean get on his current career path was his dad's friend. He suggested that Dean should go to school for computer graphics. He told Dean that 10 years from then he would either be working on a computer or sweeping around it. So, he took his advice and began his adventure with graphic design.
His Career Journey
Early on, Dean discovered that numbers were not his friend. At one time he thought about being an astronomer, but then he realized he would have to include math, and he told me that he just wasn't wired for numbers.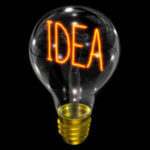 Apart from that, what really led his desire of art and graphic design was the fact that he enjoyed the process of bringing his ideas to life. He likes to be able to take a picture of a project that he has visualized in his head, and then he brings the idea to life by creating it in a way that others can see exactly how he imagined it.
Having both a fine arts degree as well as a computer design degree made for a pretty strong resume in the marketing field. Dean's first real job was at a design company. At his new job, he was sent to an empty corner cubiclewhere he was then instructed to take an unopened Photoshop box and work his magic. The rest is history.
Dean has worked with many Fortune 500 clients over the course of his career and has gained a wealth of marketing experience. Since 2014 he was the founder and CEO of FOUNDATION, a branding consultancy focused on the technology industry, has partnered with several regional agencies including ALPHA Marketing on high-level project work and just recently accepted the role of Creative Director at French West Vaughan.
Thanks to extensive experience with database, channel and integrated marketing in the consumer and B2B space, Dean knows that having a solid core to build a brand, product or service on top of is critical — and that in an era of continuously evolving social media and sales channels, every element of a positioning platform has to have a strong, clear perspective and a cohesive visual representation. -Excerpt from Dean Logan's LinkedIn
Dean is an expert when it comes to branding. He has so much valuable knowledge and experience, and he shared some of it with me on August 10th.
The Worst vs. The Best
According to Dean, the hardest part for creatives that work in a business setting is the tough line between art and commerce. He explained to me about how creatives are wired to fiercely protect their creations. For those of you who attended his TMC talk last year, you may remember him discussing this topic.
Dean continued to describe to me that each person has an insecure streak about themselves, but it's important to find that comfort zone within yourself. Creatives need to remember that while they may be the one who is creating the masterpiece, at the end of the day, they're getting paid to sell something that meets their client's particular wants and desires. In his words, "The work that wins awards sometimes doesn't sell and vice versa."
As for young creatives, Dean tries to help them internalize and understand that even though their idea might be really cool, the client might not buy it because of their target audience who might not respond well to it as opposed to a different target audience might.
Dean has a lot of favorite projects that he has worked on over the years, but not one specifically overall. He described, "Some projects are professionally satisfying, some are financially rewarding, and others are artistically an accomplishment."
Recently one that he worked on that he enjoyed was creating a company's PowerPoint deck. The company had an existing logo, and Dean took what they previously had and created a deck that was beyond what they might have thought of or they hadn't thought of it yet. He was really proud of how it turned out. Artistically, he took what they had, pulled all of the pieces apart, and then put them all back together in a new way.
Whether he is positioning tradeshow collateral or working on a branding platform, Dean's favorite part of working in this industry is creating things for others. He loves to see them look at the finished product and have them say, "Wow. It's better than I thought it was going to be." To him, it's very satisfying to create something that the client sees it as much bigger than they could have done on their own.
Dream Company
If Dean could work anywhere, he would love to work for a company like Apple or Lenovo. Specifically, so that he could be involved on the inside of a game-changing product or development, maybe like a new tech product, and be able to launch it into the marketplace. He thinks it would be pretty cool to work along on the inside of a strategy and during the conceptual phase.
He predicts that the next big thing will be relating to the idea of a "smart home." Something that connects a person's home to technology and the internet of things.
Book Recommendations
As always, I love to ask professionals if they have any book recommendations that relate to branding and marketing.
Here are a few books that Dean highly recommends:
Why You Should Attend Dean's Presentation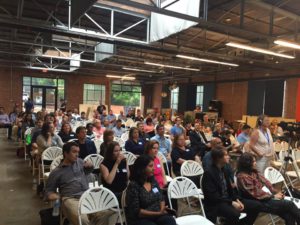 The most valuable takeaway that people will receive upon listening to Dean's presentation at the TMC event will be the acknowledgment that their company needs to be open to experimentation with how they express their brand in the world.
If you are part of an organization that consists of selling something, whether it's a product or service, it will be very beneficial for you to come hear what Dean has to say. He will discuss the realization that your company needs to have and will elaborate on the fact that if companies don't step up what they are currently doing to add new dimensions of customer service and so on, then someone else will.