On October 25th, the Triangle Marketing Club will be welcoming Tera Simon, an NC State alumnus. You may have heard of her before as she has been asked to speak at many conferences around the United States and will continue to do so throughout the rest of this year. We are really excited to have her present at this month's event and share her project management words of wisdom with us. So, if you haven't RSVP'd yet, you should do so now!
So, what is there to know about Tera Simon?
To start, she is an avid reader. If you see her waiting in a line somewhere, I can assure you that you will find her reading a new book series on her kindle. She also enjoys working out at Flywheel and playing on her two kickball teams every Tuesday night.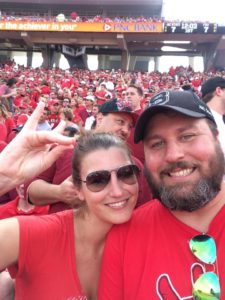 Tera is also a die-hard NFL fan. Currently, she is in fivefantasy football leagues and continues to dominate in one league in particular as the only female. Not only does she love NFL football, but she is a college football fan as well. As a big Wolfpack fan, she tries to attend every NC State football game to support her alma mater.
So, if you're like Tera and love football, swing by Lonerider Brewery after a great game, and try the "Sweet Josie" drink as it is based off of Tera herself!
What about Tera's journey to project management?
She originally started out with a dream to become a sports broadcaster. It wasn't until later that she "stumbled" into project management. While in college, she got the chance to work with three guys who wanted to start a show for WKNC 88.1 called, "Sports Revolution."
She was in a class with the guys, and they asked her to join the team to add a female perspective to their new sports broadcasting show. She started answering calls and patching people through to the show. Then she began to answer the callers on air and would add her own personal opinion as she knew a lot about sports. As a result, they ended up gaining a lot of listeners. To this day, the show still exists with the unique characteristic of having three guys and one girl. Through this opportunity, Tera showed that girls actually do know and understand sports.
During her senior year of college, she had an internship with NBC 17 which led to a job offer from her boss who started his own production house. She began working as an editor and onscreen talent for a television show that came on before NASCAR. It was then that she realized she didn't want to be on camera.
However, these opportunities made her realize her love for planning and facilitating anything that was complex. She took a job with another local production house which is where she really began her journey with project management. She enjoyed traveling so working at Centerline Digital was a perfect fit as she could work at events and with video production.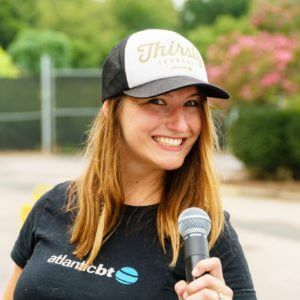 Later on, she moved to New York where she pursued her new dream in project management at a video game company. At this company, she worked on a super cool project that helped influence high school students that accounting and finance can be fun. The project was to create and build a video game to be used in around 450 schools as an educational piece for high school students.
The video game was created as a six-week high school course curriculum assignment. Different schools would compete against each other and the winning teams would be offered scholarships to college. According to Tera, over the four to five year time frame that they included the learning game, they saw about a 5-10% increase of students who decided to major in business accounting.
Five years later, she returned to Raleigh and has been working with Atlantic BT ever since. She oversees the entire client engagement side of the company and handles a lot of their business development tasks.
What makes Tera the perfect fit for a position in project management?
Naturally, Tera has all the desired characteristics for being in a project management career. She has always been a go-getter and extremely organized. In addition, she's an extremely good communicator which is another important characteristic of a great project manager.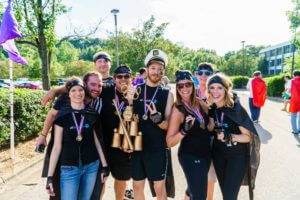 With over 15 years of experience, Tera has continued to explore her passion of project management and use her natural traits to excel in the field. She understands what it takes to succeed and knows exactly how to apply those characteristics.
For example, she can read a room extremely well and can steer a conversation or relationship in the right direction. However, she isn't afraid to do what it takes, even if it means having difficult discussions with her clients or protecting her team.
Tera loves building relationships with her clients along with teammates. Even after the projects with her clients are completed, she continues to maintain the relationships with them afterward.
Another factor that has led to her passion in project management is knowing that there is not a single project or a work day that is the same. Whether it's watching something come together as a whole or working on different projects every day, she finds this particular career path very gratifying. She has always enjoyed the rush of facilitating the ins and outs of the many projects that she has worked on over the years.
How does Tera celebrate a win or a project accomplishment?
While we were talking, Tera made it clear to me that when you are working with a client or your production team, you should always celebrate a win.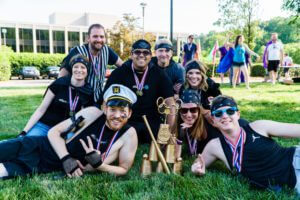 Even if it is something small, acknowledge the success of your team. It can be as simple as bringing in a small treat for everyone, such as Krispy Kreme donuts like Tera often does.
Remember that it's not always about the big major wins, but it's also about celebrating the small victories. –Tera Simon
So celebrate those victories, whether big or small and get to know each of your team members! Tera explained to me that knowing what your team members like and don't like can make an impact. For instance, when Tera brings in donuts to celebrate an accomplishment she knows which kind each of her team members prefers. As Tera says, "Make sure you're the biggest cheerleader for the team."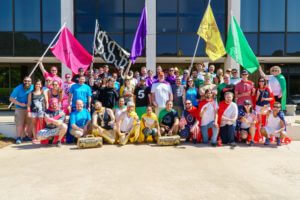 When it comes to big projects, do something special and incorporate a fun activity that the whole group would enjoy doing. Tera suggests to plan a nice dinner where everyone can relax and not have to talk about work.
She also recommended that it's great to invite spouses and significant others as a thank you and to acknowledge that you appreciate them just as much as your teammate.
Tera's last advice when it comes to celebrating an achievement is to alwaysinclude your clients. They too play a significant part in project completion. It's important to continuously build your relationships with your clients and stay with them through all the project stages, even the celebration.
Always remember that your client needs to be involved in the celebrations as well. –Tera Simon
So, is project management for you?
Do some research about the subject, check out this TMC blog about project management, attend the event this month, and reach out to Tera. If you have some of the same characteristic traits and you enjoy watching things come together from start to finish, you may be a great fit as well!
How many plates can you have spinning at one time make sure none of them fall? That's what project management really is. –Tera Simon

If you get a really high adrenaline rush off of getting to do something different every single day, then project management is for you. –Tera Simon
Project management requires a lot of hard work, but in the end it is completely worth it to see the final project come together and to be able to celebrate each accomplishment with your team and clients!
Have you RSVP'd yet?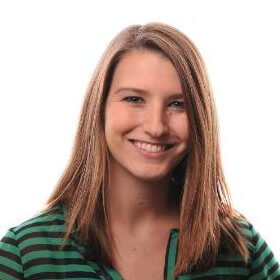 Don't miss out on a great opportunity to better understand how to manage your clients' expectations and learn more about project management from an experienced professional like Tera Simon! Her goal is to help you understand what it takes to set the right expectations for your clients and understand how to determine and manage their scope.
So, what are you waiting for? RSVP and come out to our next event to hear Tera present on this topic! Plus, follow her on Twitter and connect on LinkedIn!