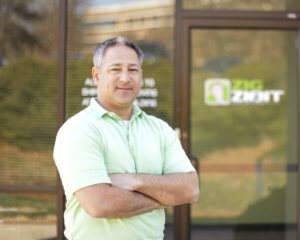 Triangle Marketing Club offers much gratitude to our sponsors. They are the reason we are able to put on the events, and, not to mention, help us provide the appetizers/beverages. We are especially thankful for the support we had from our sponsors from our recent Holiday party last month. As we start off the new year, we are excited to be working with new sponsors and for their help at our next event, on Tuesday, January 30th, where Laurie Ruettimann will be discussing Five Ways to Hire the Right and Retain Talent. This month, we would like to recognize one of our newest sponsors, Zig Zibit. They are a local exhibit building company based out of RTP, with a full team of employees helping to design and build trade show booths, as well as providing account and project management services. We were able to conduct an interview with the President/CEO of Zig Zibit, Jake Merzigian.
Can you give a brief description of your company?
"Zig Zibit was started in 2002 in Worcester, MA and was relocated to Raleigh, NC in 2003.  We currently operate in 70,000 sq ft in RTP in Durham.  Zig Zibit employs 45 people and we serve all types of industries all over the country. Our company is made up of sales executives, account managers, project managers, engineers, designers, graphic production specialist, and high level finish carpenters."
What services do you offer?
"We design, build, and rent custom trade show exhibits, print graphics, offer full service account and project management, and warehousing.  In addition to supporting clients with trade show exhibits, we also build out corporate lobbies and showrooms, store displays, and other physical marketing tools."
What is the story behind the beginning of your company?
"My initial experience with trade shows started with an annual trade show I would coordinate with the company I was working for.  I loved the strategic planning of how we were going to exhibit, going to the show to set up the display, and the energy of the trade show environment.  It was also fascinating to me how quickly the show dismantled at the close, knowing there was another show ready to be set up in the day to follow our exit.  It is a great example of a time lapse camera situation from start to finish.  My original plan with Zig Zibit was to be a sales and marketing company offering the service of trade shows, while having existing exhibit builders actually build the displays.  This was how it started, but in 2004 my partner, Matt, moved to Raleigh and we started building at that point, and have not stopped since. We currently design, build, and service everything in our current facility."
What makes your company different from the rest?
"The idea behind starting Zig Zibit had to do with wanting to offer a fun and positive experience to clients going to trade shows, while offering the highest level of quality.  The idea behind the name, the cartoons, and the high level branding was designed to separate us from a stuffy marketing company to one that is approachable, real, and customer focused. There are many companies that can build or provide an exhibit.  Our goal is for the experience to be the best with us, and that they remain long term clients."
Who are your typical clients?
"Our current mix of clients includes companies across all verticals, and are located all over the US as well as some international clients.  A good fit for us is a company with revenues between $50M-$750M and is in manufacturing, healthcare, and technology.  This allows us an extremely broad market to present our products and services to."  
What are your overall goals for your company?
"Zig Zibit's goals are to continue to experience double digit growth for the next 10 years, create good paying and professional jobs, and be to considered an industry leader in our market."

Is there anything else you would like to share with the TMC audience about your company?
"We look forward to supporting the TMC and becoming a resource to any of the volunteers, interns, and members."
We would like to thank Jake Merzigian again for taking the time to let us interview him. We look forward to having Zig Zibit as part of our TMC sponsor team in 2018!