Triangle Marketing Club brings people together once a month for marketing insight from national speakers, interactive presentations, and great conversation! Last Tuesday night, TMC hosted another successful event filled with…
Springboard Promotions and LiveNation Giveaways 
Refreshing Craft Beer 
Storytelling with Christoph Trappe
Lots of networking
, and…
Emojis 
Every event leaves those in attendance with valuable connections and knowledge on various trending topics in marketing. Oh, and sometimes even a Bluetooth speaker and Jack Johnson Tickets! We would like to extend a huge thank you to Springboard Promotions, LiveNation, and all of our sponsors for the amazing giveaways this month. We are so appreciative for all that you contribute to Triangle Marketing Club!
BIG NEWS!


If you are planning to go to Internet Summit 2017, you can help an intern go too! Use our code TMC50 for $50 off your ticket purchase. Check out this awesome blog for more information.
Christoph Trappe Storytelling: Let The Best Stories Win In Marketing
Our August event was brought to you by DCD Marketing – Thank you!
Content marketing expert Christoph Trappe of ScribbleLive brought us a wonderful presentation on the different types of content, the story lifecycle, and storytelling skills.
Christoph's interactive presentation featured the use of Emojis as a way to visually explain the different types of content. Some of our TMC audience members even got an Emoji to take home!

Different Types of Content
Content that makes us smile 
2. Content we love 
3. Content that makes us laugh 
4. Fun content 
5. Content that is crappy 
CRAP Acronym – Content Really Annoying to People
Businesses can win through content when they put their audience first.
THE PROBLEM: too much useless content is being created
Our Story Lifecycle
Plan  Create  Distribute  Measure
Plan – write it down, map it out… what do you want to achieve?

Check out this informative blog on tips for successful content planning!

Create – comes down to execution, includes strategy alignment and includes SEO
Distribute – create once then publish everywhere
Measure – measurement of impact

Skillset for Storyteller
Storytelling Skills: spotting a story and being able to figure out how to share it

The Authority

Technical Skills
"Humans should have no problem sounding human in their storytelling!" – C. Trappe
Ingredients of Useful Content
Like in a good movie or a good book….
Authentic

Conflict – some sort of problem

Resolution – fixing the problem

Relevance – how you are helping customers; relevant to audience
Thank you so much Christoph for such an interesting topic to share with TMC! We really enjoyed learning how to go about creating the right story, sharing that story and measuring the impact it can have.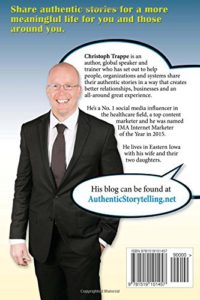 Dying to learn more from Christoph about authentic storytelling and creating useful content? Check out his awesome book "Get Real: Telling Authentic Stories for Long-term Success" for even more helpful tips!
We would love to see you at our next event on Tuesday, September 19th at 6pm! Prevailing Path Co-Founder & President John Andrews will share examples of different brands and the paths they take and relate it to his own company's approach. You won't want to miss another great event! We hope to see you there!