Triangle Marketing Club started the year 2017 with another wonderful event full of networking and new knowledge! The evening started with a meet and greet between talented marketers in addition to excellent appetizers! On the menu for the event, was the tasty "cheezy bread" from Marcos as well as great beverage flavors from Compass Rose Brewery! We would like to thank them for their amazing service!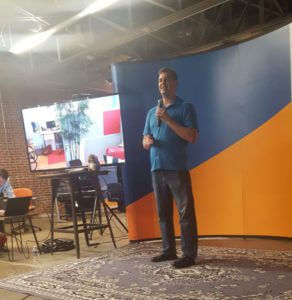 We had a couple of announcements before our January speaker, Grant Crowell, took the stage. Jimmy Kunkle, Vice President of Fundraising for the ECU chapter of the American Marketing Association, introduced their GoFundMe page to help raise money for the organization's trip to the New Orleans Conference in March. Please check out their GoFundMe and donate so that these young and bright students are able to take part in this opportunity to learn and grow! In addition, Leah Harris, Director of High Five Conference 2017, briefly presented about the conference held February 28th through March 2nd in Raleigh, NC. It is where marketers and creatives meet, so register now at a discounted price!
You may have noticed the squirrel at the check in table. This was a creative reference to the character Dug from the Disney movie Up, who is very easily distracted by squirrels. Grant Crowell, Social Media Manager at LULU, made a very entertaining and inspiring presentation on ADD in social media and how to turn distractions into directions.
Virtual ADD
"Virtual ADD," a concept coined by Grant, can impact emotional, physical, and social well being. Virtual ADD is the concept of having ADD/ADHD related symptoms such as lack of focus and poor management of electronics as well as social media. "Technology and digital distractions has led to an increase in ADHD-like behavior across many people working in online marketing and social media."
The most common "Virtual ADD" problems with Social Media are:
The amount of time spent on digital technology or "time stuck"
Having a difficult time transitioning off technology to start a task of high importance
Using technology to procrastinate from work
The tendency to be impulsive, whether it is texting or posting pictures and comments on social media.
Understanding ADHD
Individuals with ADHD are more susceptible to internet addiction and digital distractions. As opposed to a neurotypical brain, one with ADHD has structural, functional, and chemical differences. Due to less Dopamine and Norepinephrine produced, there is a decreased amount of motivation as well as the feeling to reward for a job well done, lowering the ability to regulate behavior and emotions. Maintaining focus and managing are two of many struggles a person with ADHD may have. Technology can provide the ADHD brain with a boost of Dopamine. Social media, the internet, and technology in general can easily engage the brain due to their highly stimulating nature.
How to Manage Virtual ADD
Distractions and short attention spans can make it difficult to accomplish any tasks. Grant advised many different ways to stay focused and increased productivity. It is helpful to eliminate all "weapons of mass distraction," such as Facebook, Twitter, and even your emails, during your time of work!! Meditating and just relaxing can rid us of our "monkey minds" by allowing us to focus on one thing at a time. However, we should steer clear of hyper-focusing, because we may tend to focus on getting one task completed perfectly when we really should be focusing on getting it done. Lastly, simply just being self aware can allow us to be more productive.  Set measurable goals for task completion, such as a SMART goal, and work towards these individual smaller goals. Apps and programs such as Evernote, todoist, and Caato can be helpful tools to keep you on track and reaching your goals!
Grant Crowell taught us "how to turn distractions into directions." Be sure to check out the full presentation on the TMC Facebook page and SlideShare! Next month, Douglas Burdett will be presenting "7 Concepts from 100 marketing and sales books every marketer needs to know" on Tuesday, February 28, 2017 at the KnowledgeTree in Raleigh, NC. Don't forget to RSVP for this month's event!