Triangle Marketing Club hosted yet another wonderful networking event on November 29, 2016. The evening started with a meet and greet, followed by an appetizer from Marco's Pizza and craft beer from Compass Rose Brewery! Professionals and students came together to learn and share their experiences and backgrounds. Drew Robison, President and CEO of BP Studios, who was accompanied by Ashley Poag, Digital Marketing Manager of BP Studios, were our guest speakers for the evening. Both of these professionals discussed how to build a better lead generation through your website.
Goal Setting
It is important to set goals that are measurable. Robison suggested that a simple way to do so is by setting a SMART goal. A SMART goal is a goal setting tool that is used to plan and achieve goals. SMART stands for:
Specific – Is your goal well defined? Is it clear to those who have a basic understanding of the project?
Measurable – Is it something that can be measured? How much or how many? When will I achieve this goal?
Attainable – Is it realistic? Will you be able to achieve it?
Relevant – Is your goal relevant to you and/or your business?
Time Bound – Set reasonable deadlines for your SMART goal.
In addition to creating a SMART goal, create a hypothesis that can suggest possible outcomes of your goal.
Personalization and Knowing Your Audience
Robison explained the steps to personalizing your website. He stated that you should first define your audience or ideal clientele. Once you know who they are, develop personas and develop empathy maps for each persona. After developing the empathy maps, it is important to develop content that addresses each persona during every stage of "the customer journey." Finally, use both the personas and empathy maps to create personalized experiences on your website.
Personas
You may be wondering what personas are. Robison defined a persona as who you are creating your content for. Personas, in some cases, can help humanize who you are talking to. They are used for multiple reasons including creating the appropriate content, targeting the right people, guiding product and service design and development, and aiding in problem solving.
You can develop a persona by:
Interviewing or surveying currents customers.
Talking to co-workers.
Reviewing current customers' public profiles such as Linkedin and Facebook.
Looking for trends in the data you already have.
Landing Page Tips
Poag told us some landing page tips that can better your website. The first thing she recommended is to test your landing pages in aspects such as form size and the number of fields, three or less being the optimal amount. She also said to avoid long drop down list options and that phone numbers should be optional. The last thing Poag mentioned was CTA buttons. You should label the button with the action that will be completed.
Lead Scoring and Lead Nurturing
Personas can be used to determine a score which indicates the quality of a lead, which can be based on landing page submittals as well as other website activities. Poag stated that both negative values and negative personas can be used. The beginnings of identifying a lead can allow you to drip nurture through automated email campaigns, which come from personas, signups, and website activities. Lastly, both Robison and Poag explained lead scoring and lead nurturing within their own company. They said, "by using our automated marketing platform in Kentico, we send qualified leads automatically to the proper accounts or sales managers, others can continue to be nurtured and negative scores and personas can be dropped from the campaign."
Key Take-Aways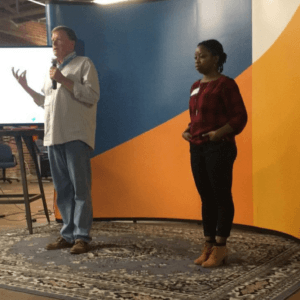 They ended the presentation with a few key concepts:
It is important to create a hypothesis and a SMART goal as a starting point.
Get to know your audience.
Personalize and create content specifically for your audience.
Track your results and learn from them.
It was a fantastic presentation from BP studios! You can watch it on the TMC Facebook page! If you would like to know more about our speaker, President and CEO of BP studios, Drew Robison, definitely check out the blog by Candace Carter!
Triangle Marketing Club ended the evening with a few awesome giveaways! TMC raffled off a great ProForma beach chair, two awesome books from Greg Hyer, and a pair of free concert tickets from our sponsor LiveNation! We would like to say a big thank you to our sponsors for these amazing prizes! RSVP to our Multi-group Christmas Holiday Party on December 13, 2016, at KnowledgeTree in Raleigh!Hope to see all of you there!