This month, Triangle Marketing Club is pleased to welcome John Paul (JP) Sherman, the Enterprise Search and Findability Expert of Red Hat. I was given the opportunity to talk to JP before he comes to talk at TMC in March. He is an intelligent, well-experienced dad who enjoys traveling and chasing after his kids. I am excited to share his advice and story with the TMC audience. 
The Interview
Could you tell me a little bit about yourself?
"I am the search and findability manager for the Red Hat customer portal. I do both SEO and optimization and on-site search, which basically means that I am in the guts of our own search engines algorithm determining rankings and relevancy and creating systems where users can find the information they're looking for. I prefer the word findability because for me, it's all about helping users find information. Whether that's in search or in other aspects, that's really what i do here and I have been here for almost 5 years now."
What is it like working at Red Hat?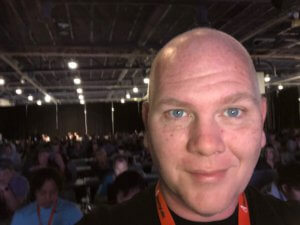 "First of all, I love working at Red Hat, absolutely love it.  I have had a variety of jobs. I've done agency work, I've worked with video games, I've been in the military, and by far Red Hat is, in my opinion, just all around the best place to work. I'm surrounded by people who are smarter than me, who have an incredible amount of skill sets, and the thing that makes us really unique is that we're all so collaborative and respectful of what each other does. We have a strong culture where we support each other and we challenge each other and it also allows me the flexibility to work from home. It's one of the most challenging jobs I've ever had, one of the most satisfying jobs I've ever had, and the people that I work with are absolutely brilliant. Red Hat has an award called the Chairman's Award. Every year, twenty people are selected over a company of 12,000 people. These are people who embody the Red Hat values, that are leaders in their field, and have provided a recognizable change in the way that we do things in business. So, two years ago, I was one of the twenty people who received the Chairman's Award. Its peer nominated so managers can't nominate. I tell my bosses, you're stuck with me until you're sick of me."
What made you interested in enterprise search and SEO?
"I've done primarily SEO in my professional career. I've been with big and small agencies, I've done a lot of in house SEO, and eventually I got recruited out to a job in LA to actually build a search engine for video games. Rather than focusing on the SEO part, I got really interested in how our search engine works because frankly, the results just sucked. Part of what I started doing at that company was making our results better and looking at not so much how to we trick google into ranking us first, but how do we create these changes from a very global scale that has deep effects on how things rank and how things are treated as important. How do we figure out these signals in an internal fairly closed environment to give users a good experience? It was one of those things that just really fired up my love of semantics, technology, creative solutions, and experimentation. Some startups work and some don't, but because I had that experience, Red Hat needed somebody who was good at SEO, but great at on site search. Since then, I've been working primarily on the on-site search looking at essentially how the behaviors and the skills that SEO people have are very well primed to actually make your on-site search results better. Most SEO's, especially in house, don't really talk about how on-site search works. They don't really measure it, and when you're talking about on site search, if you have a customer on your site, you've already got them in the funnel. In their head, they think that you have something about what they want and so they search for it. If you don't have good results, you're throwing away a really good opportunity to deliver revenue to the company and the desired thing that a potential customer wants. With on-site search, the customer knows that Google exists; they know that they have a plan B. If that site doesn't deliver what they want, they know exactly where to go. The skills that we have as SEO's, we can actively make our on-site search better because we know how to do it, but it's not something that is really thought of as important."
You went to UNC, what made you want to stay in the Raleigh area?
"I grew up in California, and my first introduction to North Carolina was being stationed in Fort Bragg. The minute I bought a car, the first places I went to were Chapel Hill and Raleigh and I just thought about how beautiful it was. I went to Asheville, Wilmington, Outer Banks and I was just like this is such a gorgeous state. I struck up random conversations with people and the people were cool, and that was something that I really liked. I met my future wife who worked with the US Senate and I just thought of course I'm going to stay here. We were going to get married and it was just a no brainer for me to stay, go to school in Chapel Hill, build a family and work here. I love California, it is where I come from but honestly, because there is so much in Raleigh in terms of technology, culture, music, art, green spaces, and all of these things as well as having a high quality of living, I just love it here. This is my home now. For some reason or another, it turns out that there is just this Raleigh and surrounding areas nexus of rich talent. There are so many good people that either came from this area or still are in this area who have contributed so much to the search communities."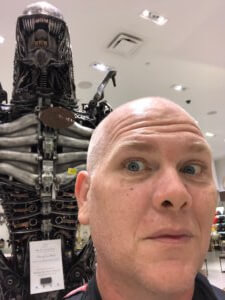 How did studying Anthropology/ Biology in school lead you to where you are today?
"The true value of college is mostly intangible. It's not the stuff that you learn it's the fact that you can learn and apply. I went to UNC for biology and anthropology mainly because when I was stationed in Thailand, I worked with the army for psychological operations. What that means is essentially information dissemination. So, when I was in Thailand, it was peace time so there was no war. What I did was humanitarian demining information dissemination because the Thailand- Cambodian border is the second most land mined area in the world. There are still children who get killed from 50-year-old land mines. One of the things that we did was we worked with Marvel Comics and DC Comics and other organizations to create a Batman-like comic written in the host language teaching kids about what do landmines look like and what to do if you see a landmine. We had soccer balls printed with safety slogans. We would just go to these tiny villages and we would hand out soccer balls and crayons and coloring books and we would work with the Thai government to build small soccer areas so that they could play. Obviously, giving kids a place to play is never a bad thing, but it also gave people the opportunity to come in and sweep the area for landmines. The idea of information dissemination through technology was what I did so when I came back, I wanted to be a biologist. It was just one of those things that I started discovering search and semantics and technology, which has always been something I was interested in individually but I had never seen anyone actually put them together. I got a job at an agency just to fill my time and it turned out to be something I was really enjoying and kind of good at, so I switched careers. I'd say the one thing that I really learned from my career in the sciences was knowing how to build experiments in such a way that it creates a meaningful outcome. Being able to factor in elements you can control and also elements you cannot control. When I started SEO, people had to be convinced that being on Google was important. Now, everyone knows that being on Google is critical and now the pitch is processed measurement, scalability, predictability, and repeatability."
I see that you founded a website, Set on Stun. Tell me about that and what you learned from that.
"Yes, that was a lot of fun. Set on Stun was a blog about video game marketing. I used it as a test case to see if I could get to the top of video game marketing. I was able to be #1 in just one year. I had an unpaid staff of volunteers who were passionate and creative and we would pump out 3-6 articles a day all centering on the concept of video game marketing. Everything from white papers to thought pieces to an external analysis of a particular video game. We'd go through and try to talk to the people who did them, and it eventually led us to having a bi-weekly podcast. Because I had worked on video games in the past, one of my past positions was a community manager for a Star Wars game. I had one person and she is now the PR director for the entire Call of Duty brand and she was phenomenal. We had one other person who was a marketing person but his real passion was in the music, sound, and creativity aspect. So, every couple of weeks we had a podcast and we talked and we had guests come on. We had guests from actual developers, to marketers, to communicators, to managers, to entrepreneurs. We found that just our podcasts brought us about 1,000 subscribers per month, which in the scheme of things is not huge but we were getting directors of marketing and VPs of marketing. By that time, I was actually getting emails from people in game companies that were asking us for help and we actually had to turn them away because we were so busy. We had about 150,000-300,000 people coming to the site per month. I figured what I would do was if you were an indie developer, I would put your ads on my site for free in exchange for a podcast interview. I had dozens of companies advertising on my site for free because they knew that they would get the eyeballs and all they would have to do was talk video games to me and my team."
What do you do in your spare time?
"What is spare time? My wife is a policy advocate for an organization and they are a non-partisan, non-profit group that advocates for things like paid family leave, common sense solutions to help families survive, health care advocacy, disability rights advocacy, and my wife has a specific special passion of breastfeeding advocacy among places of color. She is in DC on a regular basis and travels all over the place. My wife is definitely a rock star. The other hobbies I have are I roast my own coffee, I am an amateur roaster. My oldest son is in the NC Civil Air Patrol, my twins chose different sports to like so one of them likes tennis and the other on likes baseball. I drive them all over the place for different sports events. My youngest is three and he is adorable but he isn't into anything like that yet. We do a lot of traveling. For my son's 10th birthday he wanted to go to Pennsylvania to see Frank Lloyd Wright's Falling Water House. What 10-year-old wants to see an icon of American architecture? Apparently, mine. We do a lot of travel. We go to different places like Pennsylvania, Virginia, West Virginia, DC, Maryland, Colorado, Tennessee, California, and next year we are going to go to Seattle to go on a boat and see orcas. San Francisco and Seattle are like my spirit cities. They're weird, and the climate is cool but not super cold. There's just a lot of tech creative art energy there. I love places where everyone is a little bit different and you can hear ten languages in a single day. Languages are another one of my passions. I know Spanish, German, and Korean, and right now I am trying to learn French. Korean was a lot of fun but it was really hard. But still, because I learned it in the military and part of my focus was North Korea so I learned both the South Korean and North Korean version, which surprisingly has a lot of Russian cognates. I really enjoy travel, I definitely have the opinion that having experiences and exposing my kids to different things, different people, and different stuff is much more valuable than giving them a bunch of toys that all the other neighborhood kids have. I also love public speaking so I am super excited to speak for TMC!"
What are you talking about in March and what do you hope people take away from it?
"I really want people to walk away from the conversation being able to do a couple of new things without actually changing any architecture or analytics or anything like that. There are a few things I want people to take away. The first thing is really understanding how important on-site search is. The second is becoming familiar with your own search technology. Here's how to evaluate if you're search is good or not. What even is good onsite search? How do you know if it is good or bad? And then looking at the data that you can easily capture from on-site search to gain revelations about the content that you have. Lastly, don't be google. You're not google, be you. It's really about how important UI and UX are to having a good search experience. Showing people that if all the words are bold, then nothing stands out. Feel free to experiment with your search UI to make things stand out. Depending on what type of meta data you have, how can you expose that to your search results? Understanding tying your behaviors of your customers to an on-site search expectation. Now that you know all of these things, here's how you can tie it into your SEO. I am extremely excited to be a part of this and very flattered that you guys contacted me. I am really excited to be a part of the search community in Raleigh."
I want to thank JP again for taking the time to speak with me and sharing his story with me. We look forward to hearing him speak at TMC this month! Don't forget to RSVP to listen to JP talk about Using Onsite Search as a Conversion Multiplier on March 27th!