Triangle Marketing Club is excited to welcome Lia Reich, Vice President of Marketing and Communications of PrecisionHawk. I got the opportunity to talk to Lia as she prepares for her talk at TMC. She's an athletic, dog enthusiast, that loves to travel and meet new people! Now you, our amazing TMC audience, has a chance to get to know her on a more personal level.
The Interview
Could you tell me a little bit about yourself?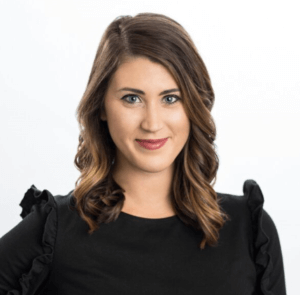 "I am the VP of Marketing and Communications at PrecisionHawk. PrecisionHawk provides an enterprise platform that uses drone technology to collect and analyze data, which we then use to improve the business intelligence of our enterprise clients. The platform is a combination of flight planning, data processing, and analytics. We work to fit that platform holistically into an enterprise, such as a large agriculture seed and chemical company, a large insurance provider, or a large construction company. PrecisionHawk has been around for almost 8 years now, and I have been working at the company for about 5. It's definitely been an adventure. A lot of what led me to the drone industry is actually my background in athletics and sports. I come from a family of athletes, my dad played in the National Football League, and my sister and I received a scholarship to the University of Maryland for swimming. I chose the university not just from the athletic prestige perspective but also because they had one of the top journalism schools in the country. Watching my dad, growing up, I saw how important it was to be at the top of your game in terms of interviewing and storytelling, including how you tell your own personal story or work as a team to tell a great brand story. That kind of passion for digital media and storytelling really led me to pursue a career in journalism.
While I was in college, pursuing my journalism career, I got an internship working in communications for an NFL team. That internship taught me another side of journalism. I got to see how the media worked from a Public Relations standpoint. I learned a lot during that internship that shaped what I wanted to do after graduation. I actually found a marketing job at a nonprofit, which is where I met the Co-founder of PrecisionHawk, who got me into the drone world. I had never heard of drones being used outside of the military, but I was able to identify the potential with a little research. I could see that this was something that would hold long term value for businesses. And I've been here ever since!"
What was it like to work as senior director of communications and marketing at PrecisionHawk before transitioning to Vice President?
"When I was originally hired, I focused my efforts on growing our brand through external communications and media relations. I latched on to that because I felt confident in that world, but when you work at a startup, you end up doing a bit of everything. I've worn a lot of hats, from business development to design, events and PR. Ultimately, my move within PrecisionHawk correlated directly with how the company was growing and evolving. The biggest adjustment in that transition from Director to VP was taking off a lot of those hats and hone in on my departmental focus. When you start to evolve in your career, your focus shifts from wearing all the hats yourself to building a team of rockstar individuals who you can rely on to support the day to day initiatives of the department. I credit a lot of success to the team I was able to hire, because they understand the vision and I know they will operate at PrecisionHawk with the same level of passion that I have for this business."
What do you like most about PrecisionHawk and your current position within the company?
"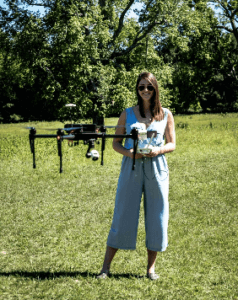 What I like most about working at PrecisionHawk is the opportunity to move into uncharted territory. There are very few times that you can be on the brink of something big, but I saw that potential in the growth of the commercial drone industry over the past couple of years. Especially now when I work with analysts and discuss what the market will look like in the next twenty years, that potential is always growing. The opportunity is huge and nobody has done it before. Everyday we get to write our own story. We get to decide how this business works from a marketing standpoint, a financial standpoint, and an operations standpoint. I think that all of us at PrecisionHawk have a true passion for innovation. We believe that the opportunity is in front of us and it's up to us to figure out how to make it happen.
What I like most about my particular role within the company is that I love the people I work with. Being in the position that I'm in, I get to interact with a lot of different departments. I get to talk with a lot of different individuals within the company and that access to different perspectives is really helpful not only to my professional growth, but also to how we implement new marketing strategies across the company. I also get to interact with a lot of our customers, and I'm fortunate enough to travel the world to meet our customers personally, see how they're interacting with our technology, and immerse myself in new cultures. Travel has been so valuable for my professional growth and that leads to further success for our marketing organization and our company overall."
How do you feel pursuit of journalism has allowed you to become a more effective marketer through storytelling?
"The most interesting parallel I have seen between journalism and marketing is the value of understanding customers. In marketing, you have to understand who your customer is. In journalism, you need to understand who the subject of your story is. In both cases, having that customer intelligence or subject intelligence allows you to ask better questions to elicit more emotion in your interview, to understand the locations that you need to visit to bring out the best in your subject. In the same way, you can think about how marketers really need to understand the customer and their motivations. Why are they doing what they're doing, why are they making a certain decision, why are they saying the kind of things they're saying? Moving into a role where I have to focus on the marketing side of the world gave me this innate passion and desire to get to know who the customer was."
What do you like to do in your spare time?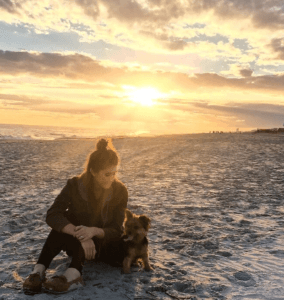 "In one word, dogs. I like to play with my dogs, I like to awkwardly stop neighbors on the street and pet their dogs, I like to look at pictures of dogs on social media, I'm dog-obsessed. I personally have two rescues. Hopefully, if people were to read this and come to the presentation, that can be something they can connect with me on. Once you meet me, it's very hard for me to go more than 30 minutes without mentioning something about my dogs, because I just love animals and always have.
Eventually one day, when I get out of the technology business, my dream is to create a retreat for dogs who aren't able to find homes so they don't have to be euthanized in high kill shelters.
I also love to travel. If not for work, I'm dragging my husband along with me all around the world. I believe I don't need a lot of material things, I can be much more fulfilled spending my financial resources on a trip to Europe rather than shoes and purses. I also read a lot and believe you can learn so much just by picking up a book."
What is one key takeaway you hope the TMC audience leaves with after hearing your presentation in February?
"I was thinking about this a lot because when I go to hear someone speak, I always ask myself 'what will I get out of this?' You go to watch a presentation because you feel like you will learn something or you feel like you will leave inspired.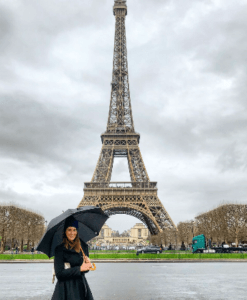 My key takeaway for this presentation ties into my experience in the startup world. The whole point of investing in a startup company is to look for a company that show really high growth potential early on, which leads to the opportunity to invest in the company before they actually take off. By doing this, obviously you assume more risk, but the payoff can be massive. Because of this exact principle, I think having the opportunity to work for a startup is a very sexy proposition. You get in early, you build something you believe in with people you believe in and that you trust, and of course, potentially you make a lot of money when it's all said and done.
However, I always let people know it's not that simple. We hear this statistic a lot, but 75% of venture backed startups don't make it; they fail. As for the other 25%, PrecisionHawk being a very lucky example of that, I think there are a lot of factors that contribute to that success. Market position or technology leadership is important, but the recipe I believe for beating the odds also includes things like persistence and perseverance, adaptability, flexibility, and a team of winning individuals.
That said, something that I would argue is equally important is creativity. I know that measuring creativity remains more of an inexact science, but analysis has been done that supports the idea that creativity matters for a business' bottom line. We all live in this world as marketers of AI, data-driven decision making, analytics, and the science behind marketing. That's a very important place for us to put our focus, but I would love to leave the attendees with a couple recommendations on how to implement the art of marketing creativity. This includes how you implement creativity in your daily routine, your marketing strategy, and even more importantly, how to identify career opportunities where creativity is valued as an investment rather than an expense."
I would like to thank Lia once again for an awesome interview. Don't forget to RSVP for our event on February 27th and hear her presentation on "Creative Science Behind Marketing."