How to Build an Airplane While Falling to the Ground is a very interesting title to name a presentation. What exactly does that mean? Triangle Marketing Club's November speaker, Tom Simon, has the answer!  
Each month, we have the opportunity to conduct interviews with our awesome speakers to learn a little more about them and what they do in the field of marketing. I got a chance to learn more about the creative mind behind the title while interviewing Tom Simon, and now you can too!
The Interview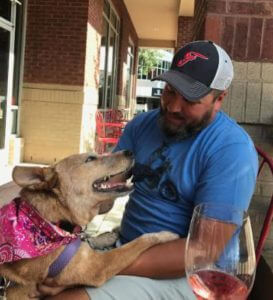 Could you tell me a little bit about yourself?
"I grew up in New Jersey and I went to college in Pennsylvania, in a small school called Muhlenberg College. I graduated there in 2001 and stayed in the general Tri-State for about eight, nine years, and then moved to Raleigh in 2009. So I've been here eight years now, I live downtown, and got a couple dogs, and make a lot of barbecue in my free time."
What was it like to work at a record label as large as Universal Music Group? Could you tell me about your experience there?
"It was intense. At the time and it is actually still the largest record company in the world. There was a lot of activity, there was really never a dull moment. I worked in the international department, so my experience was long days, early starts, and late night calls. But it was an interesting time to be in the music industry too because you kinda felt this shift in how music was going to be consumed in the future and how you work with that going down the line. It was fun, there was a lot of sleep deprivation, but it was a cool experience."  
How did you get started in the music industry?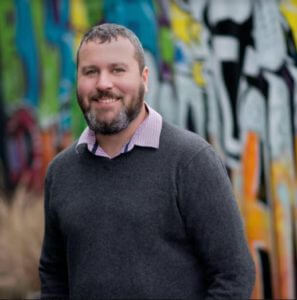 "Music is a favorite pastime of mine. So actually, getting into the record industry, I was a music director at my college radio station. Every February, there was this music conference in Harrisburg, Pennsylvania. A few people from labels would come to talk on panels and some other stuff. So I went my sophomore year for the first time and I had these little business cards made up basically. You know, this is who I am, I'm the music director here, and this is my email address, and something else. Before every panel, I would walk up to the table and put a business card down, in front of everybody's seat, and then I would just sit in the crowd and listen to the conversation. And at the time, there was a guy in there that represented Republic Records, which was part of Universal, and also managed and helped bring up this band The Bloodhound Gang. He noticed it and actually mentioned it in his talk. He said 'hey, so there's a guy in here who's putting out business cards, so if there's anybody here wondering how you get your foot in the music industry, this is a good way to do it, because he's gonna get an email from me.' And sure enough, I met him right after the talk, spent the weekend hanging out with him, and that Monday I got an offer to intern for them that summer, and I went to intern for Republic. So that kind of started my journey into the music business, it was fun. It did fit really well into my interest in music and wanting to be part of it, and I always liked working with bands, because they were really creative."
Could you give me some insight on your company Source3? What was your inspiration in starting the company?
"Before Source3, I had worked at Geomagic, which was a 3D software company, that was later acquired by 3D Systems. 3D Systems is a massive 3D printing company headquartered in Rockhill, SC. At the time, they were acquiring a lot of companies. While working at 3D systems, and in particular given my previous history in the music industry, one thing that was always apparent, in any conversation I had or anything that revolved around it was that this is really cool technology, but it's not for everybody, it's very hard to understand or learn, it's difficult to grasp, and the other thing is that, there's tons of these printers, but just no content. It's hard to get content for it. In music, content was king. It's a cliche that people use a lot but I realized that there's a gap that might be able to be filled with trying to bring content to the masses, so that everybody can participate in printing.
So I was thinking about this, and my old CEO, Tom K., had hooked up with a couple of guys that were at YouTube, and they had sold a rights management system to Google that became their content ID platform inside YouTube. They were looking for the next challenge and 3D felt like the space they wanted to go into. So Tom introduced me to them, one thing led to another, and we got together and just decided let's start Source3. I left 3D Systems, flew to NY to meet with the rest of the team, and that was it.
And so, 3D was our focus for a while, it's what we raised a lot of capital on, it was the ethos behind our distribution platform they were trying to build, where we were gonna allow designers from anywhere to upload content to our system and then distribute it to different places where people can go and buy a print. We were also looking at ways to engage brands as well, and to try bring 3D printing up in the brand world as a new innovative way to create products or maybe engage super fans to help them create certain products without breaking the IP rules. And along the way, we learned that this was a problem, and there was another problem going on with rights management component, when it came to user generated content. I mean the Etsys of the world, people making lampshades with Batman logos on it, stuff like that that there were a lot of pain points for. So we pivoted aggressively away from 3D to focus more on this rights management for user generated products in this space. And we hired some people, built a really great database, used an image recognition system that would help identify the content. But then would require manual labor behind it to go through and finalize what we found and whether or not certained things needed to be reviewed, and we kept doin it. We got some interest from certain companies and certain marketplaces. And then social became the next frontier, people using branded items inside of live streams. We got connected with Facebook, then there was an opportunity to get acquired, and we worked really hard at it, and there it was. That ended in August."
What do you like to do in your spare time?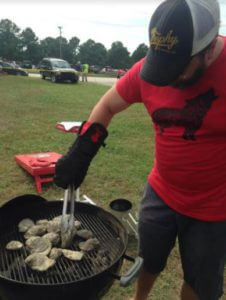 "In my spare time, I make a lot of barbecue. My wife is very nice to me and lets me keep buying stuff and putting it in the backyard. Gotta have this arsenal of smokers and grilles and what not. I'm particularly fond of barbecuing, and it takes up a good chunk of time too. But that's not obviously realistic, I can't do it all the time kind of thing, so I find other ways to kill my time. More recently, since the acquisition occurred, I've been working with companies and certain people talking about marketing initiatives or ideas around fundraising and just having some fun doing that. And I'm on the board of the city of Raleigh museum, so I really enjoy that a lot. It's really fun to work on projects and things that the museum is gonna be hosting. It's unique to have this museum for us, and it's a great way to meet people, and get involved in the community too. Of course, and then you have sports. I watch football Saturday and Sunday religiously, but that's for a short period too."
With all your experience, do you have any advice for marketing students such as myself?
"One is always be learning. Marketing one year and certain components to it are going to change and adapt the following year. We are in a profession that is constantly evolving, so always be learning. Always do in marketing what you enjoy the most. Pick the thing you are most comfortable. Marketing is a broad field, there's plenty to do in it. And the people that try to do all of it aren't usually that happy. There's too much cross and not really a lot of engagement in all of it. The other thing is surround yourself with smart people. Whether it's starting out, and you're just learning, or whether you become a manager, you wanna always make sure to hire somebody that knows something a little bit better than you do, and hope that they grow in that capacity, and hope you grow as well. Again surround yourself with smart people, don't be afraid to ask questions, and more importantly learn and let them show you how to do certain things. Those are kind of the key tips to it, and have fun."
What is one key takeaway you hope the TMC audience leaves with after hearing your presentation?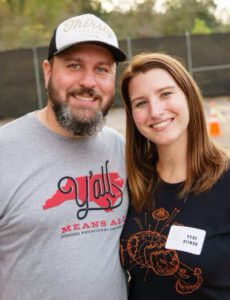 "I think I use this term a lot, you know, jumping off a cliff and building an airplane on the way down. From an entrepreneurial perspective and from being a founder of a company carries a certain message to it. I think when it comes to TMC, and it comes to the audience that's going to be there, the things that I would like the biggest takeaway to come from this is 'Don't be afraid of the pivot.' People's tendency is to see pivot and panic in business. Like 'oh we are pivoting to this' and they freak out or they are resistant to it. And really, it's hard, it's maybe one of the hardest things you'll do in business. It requires a lot of gut and a lot of instinct and other things. But don't be afraid of it, embrace the pivot. I wish I had done that at the start, I struggled with it, and started to realize, 'let's not focus our energy on struggling, let's focus this energy on embracing it, and how can we turn things around.' So I'll spend some time talking about what I mean by that. Really and truthfully, as marketers, learning how to embrace the pivot, and learning how to help the company move forward in that direction, it's incredibly challenging, but incredibly rewarding."  
We are excited for Tom's presentation on Tuesday, November 14th at 6pm in SAVO KnowledgeTree. Remember that this event will not be recorded, so make sure that you are there in person! This is a presentation you won't want to miss, so don't forget to RSVP! Hope to see you all there!