Triangle Marketing Club will be welcoming software architect, Drew Robison, on November 29th. At the event, Drew will be discussing how we should be building our websites in order to produce better leads. This is going to be a great presentation by a very talented computer science expert with over twenty-five years of experience.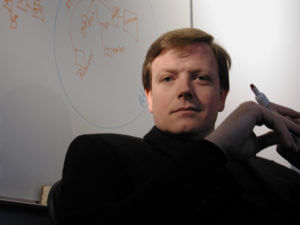 Drew's journey began at Slippery Rock University of Pennsylvania where he earned his Bachelor's Degree in Computer Science. He chose this career path as it was the big upcoming job at the time, and he believed it would be a great adventure for him to explore.
After graduating, he worked at the Research Triangle Institute,  RTI International, where he held the position of research and development engineer. Within this position, he was given the opportunity to work with agencies such as State Bureau of Investigation, NASA, and the Department of Defense. A month after he concluded his work with RTI International, Drew began working with the Institute of Academic Technology at UNC Chapel Hill. He worked there under the title of Multimedia Support and Technologies Manager.
Drew has worked on a lot of really neat projects over the years. For instance, he was able to be part of a project that utilized technology in order to help train people who are blind. They were able to utilize audio technology by taking pieces of audio and video and capture each of the frames. Drew and his team at UNC created a clip maker that was designed to piece together all of the clips to help train people who were not able to see. Another project that Drew took a part of was writing the drivers for the multimedia extensions in Windows. A prime example is when he and his team wrote a video driver for the first multimedia extension. The video driver was created as a means to link a display adapter to an operating system such as Windows. Another project example that demonstrates his success within the field is his work on the creation of the precursor for the very first browser.
After working at RTI and UNC for a number of years, he decided to begin his own company. Drew was very well known around the nation for having the ability and knowledge on how to convert multimedia, so starting his own company would be a great investment. According to Drew, he saved up his money and purchased a big PC that had Photoshop capabilities providing him the opportunity to kickstart his company. He had the opportunity to speak about multimedia at several different universities and then launched BP Studios in 1994.
Drew really enjoys taking the talents that he and his team at BP Studios have and being able to apply it towards people who may need their skills and knowledge. For example, they have used their talents to help people with disaster relief needs. He noted that he loves seeing technology being used to help manage those type of events and seeing the outcome which brings people together and helps those in need. Drew values the use of technology for the good of the community and bringing his team together to make a difference in multiple aspects of community involvement.
After years of experience within the industry, he can attest to the engaging and rewarding aspect of the job. Drew noted that he enjoys having the opportunity to always learn something new within this field. His self-motivation to push himself further in his career as well as desire for learning new skills has contributed to his success.
Drew hopes that the TMC crowd will gain a lot of insight from his presentation. Most importantly, the ability to be able to understand the complete picture, from beginning to end, of the B2B sales engagement life cycle in an automated way. So come out to the event and learn about how you can create better leads through your website.