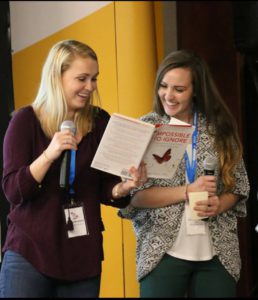 Have you networked lately? Triangle Marketing Club had its second event of the year Tuesday of last week. As a member of the TMC audience, you probably saw a lot of familiar things at the event like name badges, refreshments from Compass Rose Brewery and Marcos Pizza, and of course, networking. However, you may have also seen some new things such as a bigger screen! We even had some surprise hosts this time around. Our wonderful senior interns Candace Carter and Emma Brothers did a fantastic job hosting the event!
One of our great sponsors brought "The Perfect Tech Gift Set" as a raffle prize! Thank you to Springboard Promotions for another amazing giveaway! We also had an important announcement! Emma Brothers, Co-VP of Sponsorship for the ECU chapter of the American Marketing Association, mentioned their GoFundMe page to aid in fundraising the organization's trip to the New Orleans Conference this month! Please donate so these students are able to embark on this once in a lifetime trip!
Our speaker for February was none other than Douglas Burdett, founder of a marketing agency called Artillery in Norfolk, Virginia. Douglas shared some insights to help the TMC audience better understand current events that will make one a more successful marketer. His presentation was on the topic "7 Concepts from Over 100 Marketing and Sales Books Every Marketer Needs to Know."  
Marketers Have An Image Problem
Douglas began by asking the TMC audience if they could guess what percent of CEOs trust marketers. Shockingly, the answer is only 20%! The other 80% of CEOs do not trust marketers because they believe that marketers are too financially disconnected for the companies and organizations they work for. Douglas introduced the book "The 12 Powers of a Marketing Leader" by Thomas Barta and Patrick Barwise as the authors conducted a large field study of marketers and had some insights to share!
What Goes In A Marketing Plan?
Douglas mentioned Malcolm McDonald, author of "Malcolm McDonald on Marketing Planning," who explained in his book that a successful marketing plan must answer these two questions.
What are your key target markets in order of priority?

In your key target markets, what are your company's sources of differential advantage?
If your marketing plan answers these two questions, you as a marketer will be found in the 20% that CEOs trust!
What Is Your Most Powerful Marketing?
The experience you give customers is your most powerful marketing. Douglas shared that 70% of Americans are more willing to spend with companies that provide exceptional customer service. Regular customers are also where big money is! Also, loyal customers are worth up to 10 times as much as their initial purchase. Douglas stated that this and many more interesting facts about customer experience are found in the book "What Customers Crave" by Nicholas Webb.
Faster Growth and Higher Profitability
Douglas mentioned that in order to achieve faster growth and higher profitability, it is imperative that sales and marketing are aligned. Marketers are from Mars and Salespeople are from Venus. This means the relationship between the two can be described as an ongoing war. Sales typically perceive marketers as the "make it pretty" department, while marketers perceive salespeople as undisciplined and unable to follow up on leads. When these two are working in harmony it will lead to faster growth and higher profitability.  Check out the book "Aligned to Achieve: How To Unite Your Sales and Marketing Teams Into a Single Force for Growth," by Tracy Eiler and Andrea Austin.
Are Mice Attracted to Mousetraps?
The answer is no, mice are not attracted to mousetraps. Mice are attracted to what is on the mousetrap. This is a clever analogy that Douglas explained to the TMC audience because the same rules apply for content on your website. Douglas also asked the question "so what is the holy grail for creating content that will help your company get found online, and build traffic, trust, leads and sales?" The answer is to focus on your buyer persona. The book "Buyer Personas" by Adele Revella explains this concept in greater details.
Marketing Should Be Measured More, But Measure What Matters
There are a couple aspects that can be measured in marketing. The pipeline, or the opportunities sales believe could become revenue is an important measurement. You should also measure the effectiveness of your content marketing. However, "if you can't measure it, don't do it." Douglas suggested "The Marketing Performance Blueprint" by Paul Roetzers, as great advice for marketing.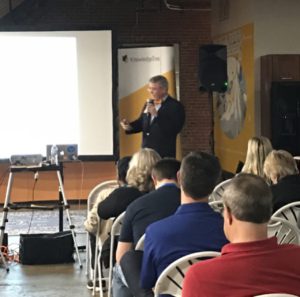 There Is Hope For Marketers
Salaries of "good" marketers are expected to double in the next five years! The roles of marketers become training grounds for CEOs. With insightful marketing, a number of CEOs are coming from CMOs and the trends are predicted to continue.
TMC would like to thank Douglas Burdett for coming and bringing some awesome new knowledge! We would also like to give a special shout out to Adapt Partners for the awesome new screen! Hope to see the TMC audience at our March event featuring nationally known speaker Chris Moody who will be presenting on the topic of "Insanely Effective Content Marketing with Limited Budget." Don't forget to RSVP!