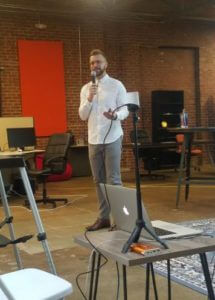 Triangle Marketing Club hosts fun networking events for marketers in the triangle where they can come together once a month and learn from nationally known speakers. We are especially thankful to BP Studios for bringing us the talented Michael Barber to speak at this event! Although the weather outside was gray at our past event, we still had a great time with Marcos pizza, craft beer from Compass Rose Brewery, and some successful networking!
We would like to thank all of our sponsors for making these great networking events possible. Springboard Promotions brings an awesome prize to giveaway each month, such as a 30 can capacity insulated cooler for this upcoming summer! After a few announcements, we were happy to have Michael Barber, founder of Barber&Hewitt, take the stage. So let's talk about "Friction: It's All That Matters."
Friction
Michael Barber began by saying, "more friction = more time wasted = unhappy people = less likely to do biz." Time is all we have, and some companies are just good at wasting our precious time. We live in a nation of distraction, yet we continue to create friction for people. So what exactly is friction? Michael gave us some interesting examples:
"We Don't Want To Talk To You"
This situation is where a company sends an email to you, but does not want to hear back from you. These emails typically have "do not reply" in the name of the sender.
"Go Ahead, Get Lost In Our Nav"
Michael explained that this is when a company has a website that is complicated to navigate. We all want that new jacket, if we can ever figure out how to find it on their website.
"We Really Don't Want You To Read This "
Have you ever wanted to read an online article, but pop-ups and advertisements just make you want to give up? Yes, that's friction and its sad news when we just wanted to read the article.
Michael mentioned the time where he received 10 emails in the span of 72 hours from the same company. That is just way too many emails, if you ask me. Too many emails just make you want to unsubscribe, but that means trying to find the "unsubscribe" button in that little gray font no one can see.
Sometimes companies try to think out of the box, when it is just simply unnecessary. Michael gave us a great example about hotel room keys. He described a circular hotel, with matching circular room keys. Unfortunately, the room key doesn't fit in a normal sized wallet pocket… friction!
So How Do We Change?
Friction makes most people just want to do a "facepalm" when they experience it. If we create friction for our customers, they will most likely want to do business somewhere more simple. So how can we make a change so our customers don't end up doing business with our competitors? Michael explained the 5 C's to reduce friction.
Contextual – You Respect People's Mediums
Be where your customers happen to be
Convenient – You Make It Too Easy To Do Business With You
Don't make your customers work hard to find you
Be where the customers are
Don't invent infrastructure if you don't have to
Consistent – It's Always The Same Experience
It doesn't have to be perfect, but it should be consistent
Connected – You Enable Seamless Experiences
People don't care about offline and online
Compassionate- Empathy Is Required, Always
Doing right shouldn't have to be news, but it can be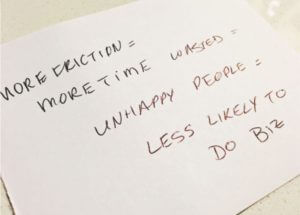 Michael Barber said that reducing friction can save a lot of time. If you would like the slides from Michael's presentation, click here! You can even say hello @michaeljbarber! Remember to RSVP for our Marketing Leaders Panel featuring Dan London, JT Moore, Greg Ng, and Karlie Marlowe! Our next event will be held Tuesday, June 27, 2017 at KnowledgeTree. Hope to see you there!