On October 25, 2016, Triangle Marketing Club hosted a Halloween themed networking event welcoming marketers and students from North Carolina. TMC welcomed guests with name badges, Chick Fil A, and beverages to set the scene. The guest speaker of this month's event was Project Management Mentor from Atlantic BT, Tera Simon. She  taught us how to manage client expectations and identify scope creep.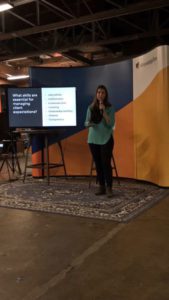 Communicate, Conversate, and Build Trust 
Simon started by explaining that a new client is a new relationship. She stated that, "people are the reason why projects go wrong" since no one teaches a client how to be a client. One must take this into consideration when dealing with a client. You may be asking the question, "How do I fix this?" which could be answered by incorporating a few new skills. The skills needed for managing client expectations include adaptability, collaboration, communication, listening, honesty, transparency, and relationship building.
The main idea here is to communicate, conversate, and build trust.
Identifying a Client
There are different types of clients, and Simon told us that each type must be approached differently. The first step is to identify the type of client you are dealing with and then find a possible solution. So, how do you identify them?
Here are the types of clients as described by Simon:
The curious asks a lot of questions and must learn the answers to everything.
The oblivious is often the one that says "I don't know" or "I'm not sure."
The know it all believes they know what is best even if that's not the case.
The cheapskate has an unwillingness to spend money.
The dreamer has an idea but does not know where to start.
The helper typically desires to help but this can get excessive.
The sprinter seems to have no sense of time.
The underling makes zero decisions.
Scope Creep
In addition to the different types of clients, there are different types of scope creeps. Each of these deals with interference from a client, incomplete scope, poor change control, and miscommunication. Simon described three different types of scope creep one should look out for.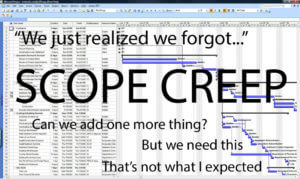 Effort creep deals with doing more work without added scope. The team produces overly optimistic estimates and is usually associated with lack of skills.
Hope creep is where the team falsely reports they are on track. This is the hardest to identify because it hides until last minute.
Feature creep is also known as gold plating because the team tends to add unnecessary features.
Tera Simon concluded her presentation by giving some tips which included documenting everything and constantly clarifying goals. Failure is okay if one can learn from it. The best way to cope with failure is to acknowledge the problem and seek possible solutions. The lack of communication can be a great barrier in problem solving.  Simon gave this quote by George Bernard Shaw, "The single biggest problem in communication is the illusion that it has taken place" as final thoughts.
If you missed the meeting, check out Tera Simon's presentation on TMC Facebook page! Also, if you would like to know more about Tera Simon, check out the TMC Blog, "A Project Management Mentor -Tera Simon" written by Candace Carter. Hope to see everyone at Triangle Marketing Club's next great networking event on November 29 at 7pm! Don't forget to RSVP!