Imagine a world where your boss or the CEO of the company doesn't understand what you do or how you add value. You probably don't have to think too hard to empathize with this viewpoint as that's the reality for most marketers in corporate America.
Are you a content marketer with great ideas, but have a limited budget? Are you working on tight deadlines, and you still have to find a way to make it work?  Are you striving to be an effective marketer?  Most (80%) marketers are not meeting the expectations of the CEOs for the companies that they work for because they are financially disconnected. The average marketers are just not bringing value to their companies because of financial restrictions. Marketers and CEOs are not seeing eye to eye, causing a disruption in productivity. Once a marketer proves that they can generate significant revenue through their efforts, salaries can double. "Marketers that understand this will always have job security and opportunities." Triangle Marketing Club's March event is sponsored by Adapt Partners, Technical SEO Agency!
This month nationally recognized speaker Chris Moody explains what is the cause of the disconnect between CEOs and marketers  and more! But first, let us learn a little bit more about him!  
Chris Moody's "Terrible Business"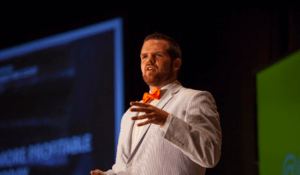 Chris grew up in Burlington, NC. He has always been interested in the Business field. "I had a terrible business when I was five" he said. Chris would rent out video games to "friends and neighbors" for $1, but he never established a return policy, so it was very sad news that he did not get some games back. In 2001, he moved to Raleigh, where he later became part of the Wolfpack nation at NC State University. He studied Business Management, and had an interest in marketing. Chris also had a great enthusiasm for web and graphic design during his college years.

A Grad School Miracle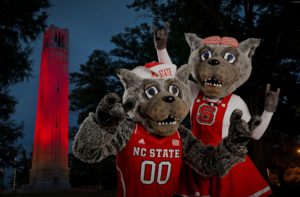 Chris told me an amazing story about his MBA! He was wondering what to do since there were not many marketing jobs available after graduation. One night at 2am he thought, "what if I get an MBA?" Chris then researched NC State's MBA program and saw that the deadline was the next day! The next step was to take the GMAT, which luckily was being administered at 8am the next morning. Chris registered for the GMAT only six hours before the test and took it. "I drove my preliminary score and application to the office immediately after taking the GMAT." Thankfully, he got into the program and completed his masters at NC State University as well! 
The Job Search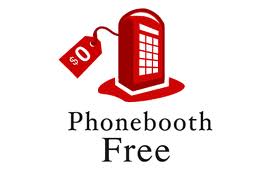 The first job Chris obtained was for a startup during his MBA. He was responsible for marketing, HR, and IT (startup life…). "I was the first
person working that wasn't an inventor or professor" Chris mentioned. His primary focus was to write out the marketing plan. Later, Chris became a product manager for a medical device company. After gaining experience as a product manager, he joined Bandwidth to help grow Phonebooth, an innovative on-demand VoIP solution.. Chris said that he was "leading digital marketing and social media before Phonebooth launched at SXSW. " Their launch was named the third best at SXSW behind Twitter and Foursquare. 
Chris Moody at GE Digital
Chris explains that in short GE Digital is "technology that connects people and machines to deliver business outcomes." Chris has an important role as content marketing leader for GE Digital.  He works with a team of subject matter experts and PHDs. "We try to understand the needs of customer, and create better content based on those understandings. GE's digital industrial software solutions and services bring together brilliant machines, data, insights, and people to drive real-time connectivity and data intelligence through a digital thread."

Along with his accomplished peers, Chris leads content marketing to spread awareness of the strength of the "Industrial Internet of Things" or "IIoT." IIoT is the manufacturing aspect of the "Internet of things" or "IoT." Chris explained that his goals are to use content marketing to generate new revenue as well as learn how to better meet the needs of customers. "We create relevant content by taking ideas and experiences from our experts that come directly from customers and prospects. We want people to trust us as an advisor for their digital transformation projects."
Chris at Home
My last question to Chris was what he likes to do in his spare time. He says he likes to play basketball once or twice a week. He also loves to spend time with his kids, three under the age of five! He coaches their sports teams and tries to spend as much time as possible with his family when he is not working.
Chris has also traveled many places overseas, including Rome, London, and Israel!
Since 80% of CEOs say that their marketing team is not adding value, Chris hopes that the TMC audience will be able to understand how to bring value in their eyes. He will be speaking at the next Triangle Marketing Club event in a few weeks on March 28th at KnowledgeTree in Raleigh! We would like to thank our wonderful sponsor Adapt Partners for their support! Don't forget to RSVP! You don't want to miss this talented speaker present on "Insanely Effective Content Marketing With Limited Budget"!